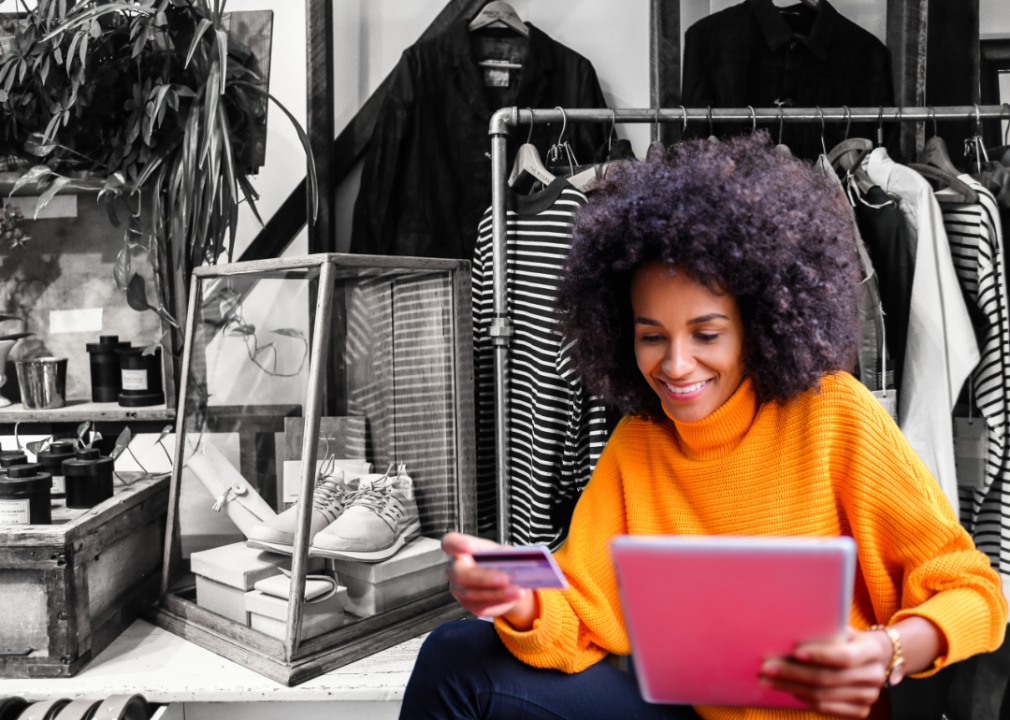 Photo Illustration by Stacker // Canva
American consumers have long been a driving force of the country's economy and, for the last decade, have been responsible for nearly 70% of U.S. gross domestic product. While spending has changed only a few percentage points since 2007, spending habits have undergone seismic shifts. 
Online sales were already growing before the onset of the pandemic, but it was supercharged when Americans opted for contactless shopping. In 2020, e-commerce sales increased by more than three times compared to pre-COVID-19 rates. While the rate has dropped since social distancing guidelines were lifted, shoppers are still logging on. As of mid-2023, nearly 15% of all retail sales were made online, according to the Census Bureau; five years earlier, that share was under 10%. 
It wasn't so long ago when online shopping was brand new and apprehensions about the vulnerability of personal information, credit card numbers, and computer connections put many customers off. As payment security has advanced, retailers also perfected their online shopping experiences to attract even more buyers with more seamless and intuitive designs.
Today, retailers have even merged online and in-person shopping into hybrid experiences like buying online but picking up curbside or using QR codes to expand in-store interactions. To better understand changing consumer habits, Flowcode visualized the share of shopping that happens in person, online, or in a hybrid capacity across categories using data from a 2022 IBM survey.  The survey found that "consumers no longer see online and offline shopping as distinct experiences—they expect everything to be connected all the time" and also noted that shopping must be "fast and efficient," and other times, it should be "rich and experiential." Modern shoppers are keeping retailers on their toes by saying they prefer "visiting stores, shopping online, and using mobile apps interchangeably."
Most grocery shopping happens in person, whereas most shop for home goods online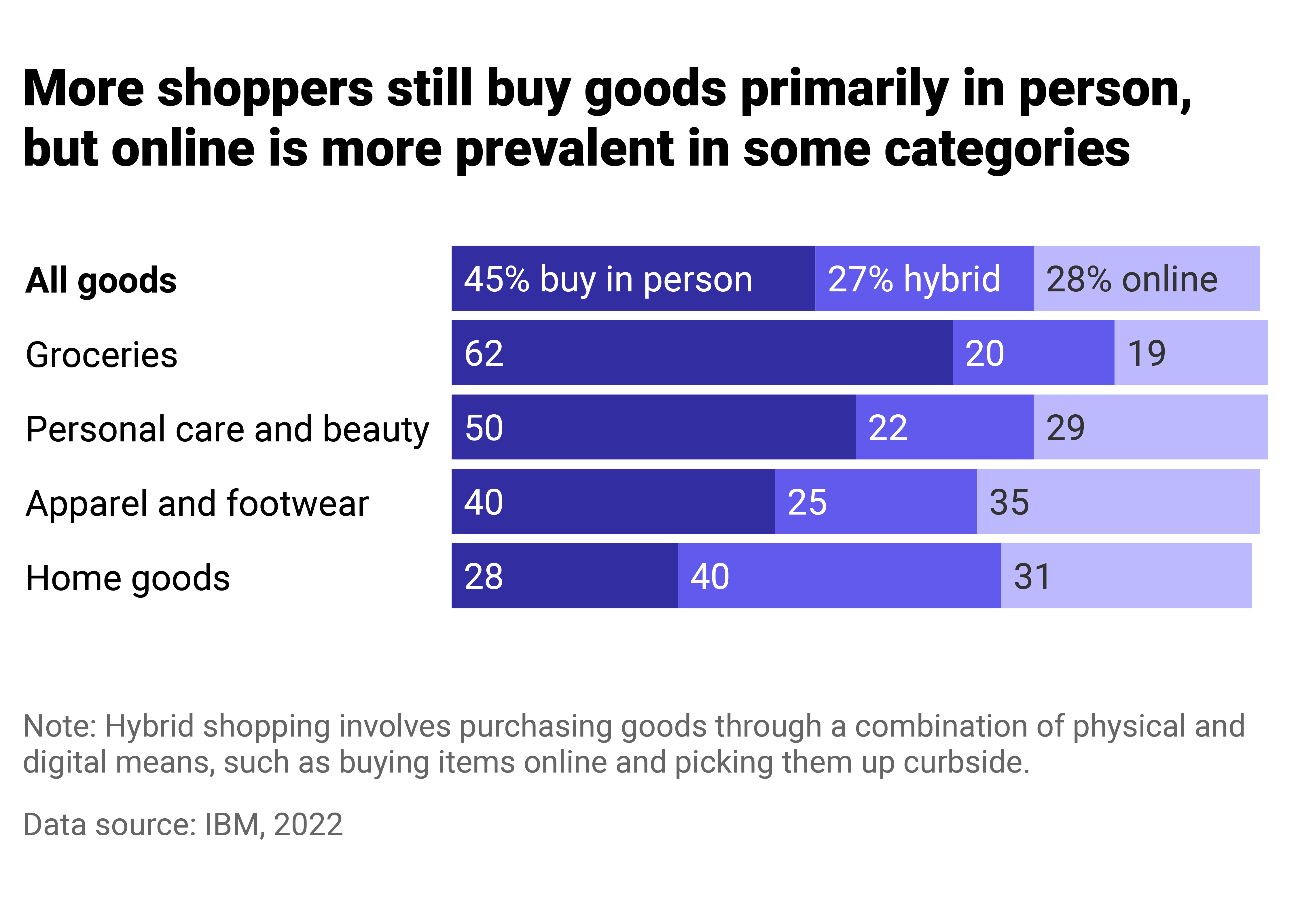 Flowcode
Using the same data, shopping preferences were divided across four categories: groceries, personal care and beauty, apparel and footwear, and home goods. The latter is the favorite for hybrid shoppers (40%), with 2 in 5 preferring "buying in-store and shipping/delivering to home, and buying online and picking items up curbside," among other combined methods. Home decor webpages and apps have incorporated state-of-the-art features to help consumers visualize how wallpaper, carpets, and decorative objects would look in the different rooms of their own houses. It only takes a few minutes to shoot a photo and upload it on the app.
Trying on clothes and footwear, and trying out personal care products, are reasons shoppers may continue to seek those products in person. But people who know what they want, or are willing to try out a few options at home and return the rest, are likely behind the hybrid and online shopping in those categories.
It's understandable that shopping for groceries in person (60%) still remains the favorite option for 3 in 5 consumers over hybrid and online. Picking fresh fruit and vegetables, choosing the meat, fish, or poultry of their preference, and indulging in the smell of baked goods is a sensory experience few want to give up—unless last-minute visitors show up and find the hosts unprepared. Restaurant and prepared food pick-up and deliveries have been around for decades through phone orders, which now coexist with online and app ordering.
Overall, more shoppers prefer either hybrid or physical shopping to the exclusive digital choice. The survey determined that, including "the 27% that primarily buy hybrid, nearly 3 in 4 (72%) consumers rely on stores as part of their primary buying method."
The report notes that buying is not the same as learning about a product. Therefore, even if a business focuses mainly on optimizing its customer's physical shopping experience, it should still work to provide useful, positive information about products and services online.
Most shoppers rely on a combination of information provided on websites, social media, and marketplaces—along with online professional and consumer reviews—before buying. The opinions of friends and family are also taken into consideration. Only 38% of people who buy exclusively in person learn about a product at the store where they plan to purchase it.
In other words, yes, consumers want it all, and gravitate to the best experiences to research and purchase products, whether online or in store. The numbers are tight enough that retailers must focus on both stores and the internet. About 55% of customers prefer online (28%) or hybrid (27%) shopping, while 45% remain loyal to the good old in-store option, according to the IBM survey. The scale tilts toward in-person shopping mainly due to the behavior of shoppers who are not digital natives, such as Gen Xers (71%) and baby boomers (78%). 
Nevertheless, 57% of Gen Zers and 59% of millennials "still shop in stores at least weekly." It's clear that consumers of all ages have embraced online shopping, but without counting brick-and-mortar stores out. In fact, the balancing of convenience with traditional shopping habits may make Americans more receptive than ever to more hybrid opportunities that can blend the best of both worlds. 
This story originally appeared on Flowcode and was produced and distributed in partnership with Stacker Studio.