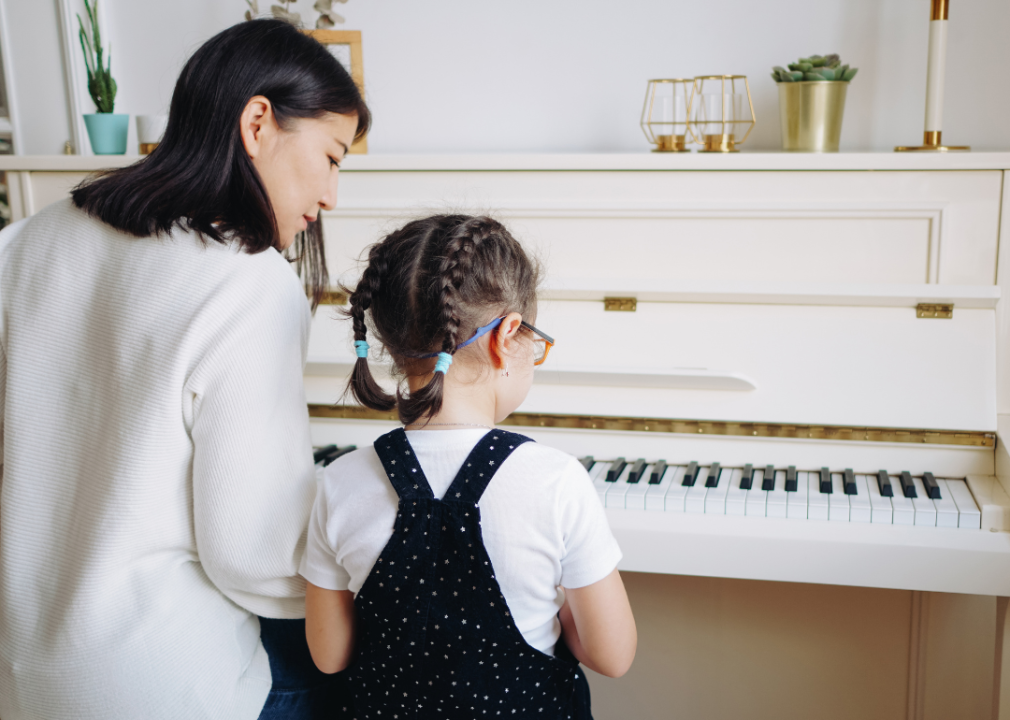 Canva
Music is more than its emotive powers. Playing an instrument can bring unexpected physical and even health benefits, too. It's great for cognitive health because it engages every part of the central nervous system, John Dani, chair of neuroscience at the University of Pennsylvania's Perelman School of Medicine, told Penn Medicine News. He also noted that it helps develop the left and right sides of the brain whenever each hand does separate tasks. 
Despite the creative and health benefits, many have found that the demands of learning to play an instrument have been difficult to surmount. Zoë Kravitz—whose father, Lenny Kravitz, is a singer-songwriter—told Rolling Stone that she played drums and piano in high school, but lacked the discipline to keep up with them. While she doesn't focus on playing instruments as an adult, she says she still tries to tap into her creativity by writing music whenever she has a break. 
A lack of discipline—or time—is a common reason an aspiring musician might quit an instrument. Fading interest or losing the opportunity to continue lessons can be other factors. Many may have been forced to learn by well-meaning parents as a child, hit a wall with a discouraging teacher, or struggled to master the technical finger or breath work to keep improving. 
But, regardless of the reasons for giving up an instrument, many still wish they'd kept with it. Skoove looked at YouGov data and found the top 12 instruments people most regret quitting based on the percentage of respondents who said "Yes" when asked if they regret no longer playing a certain instrument. 
Former guitar and piano players express the most regret for not continuing to play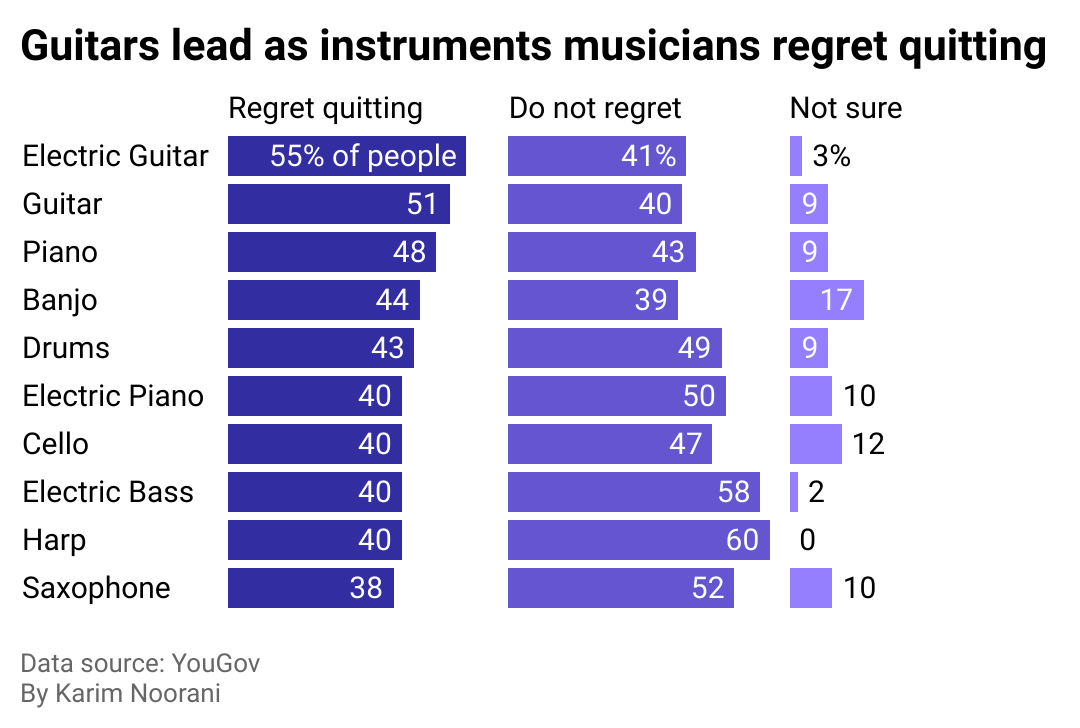 Skoove
While not everyone can be an Elton John or Alicia Keys, playing an instrument is a reward in and of itself, and everyone has the capacity to learn, even if it's just a few notes or simple pieces. 
But what about people who quit? Former electric guitarists rank highest for regret—more than half wish they hadn't given it up, whether they lament giving up on rock star dreams or just miss being able to jam along to their favorite songs in their garage. Trailing right behind them are former acoustic guitar players, 51% of whom said they wished they still played. They're followed by former piano players, with 48% regretting that they don't tickle the ivories anymore.
Aside from factors like time and being able to afford instruments and lessons, unique challenges can arise when playing some of the instruments on this list that can contribute to quitting. Piano, harp, and drums may have logistical challenges if learners live in smaller homes or apartments that lack enough space—or forgiving family members and neighbors. Recorders are often taught in school, so people may have picked them up as a child, but the instrument's range and style of songs can be limited, which can discourage pursuing the recorder further.
Songs featuring electric bass, banjo, or harmonica often sound better when accompanied by other instruments or vocals, so practicing alone can be less fun. Children can struggle with lip placement and breath technique when playing trombones and saxophones because their jaws are still growing or their lips may tire easily.
However, many players successfully learn a few pieces and find a continued love for an instrument. Without prior experience, Natalie Portman learned how to play piano for her role in the 2007 film "Mr. Magorium's Wonder Emporium." The actress told the Reno Gazette-Journal, "I learned [piano] for this movie. It was a great sort of perk of the job. I can't really play, but it was fun to just sort of learn a couple pieces, and I'm taking piano lessons now to try and keep up with it." 
Data reporting by Luke Hicks. Story editing by Carren Jao. Copy editing by Tim Bruns. Photo selection by Lacy Kerrick.
This story originally appeared on Skoove and was produced and distributed in partnership with Stacker Studio.